[現場不開放報名公告]
因應新冠肺炎疫情(COVID-19),參酌我國疾病管制署之防疫建議,本大會將不開放現場報名,謝謝您的配合。
[實體工作坊額滿公告]
感謝各界踴躍報名,2021年1月31日之實體工作坊(Workshop)已額滿,即日起(12月23日)不再受理報名;1月30日之課程(Lecture)於1月20日線上報名系統關閉前尚有名額,歡迎學員踴躍報名。
Important Dates (GMT+8)
Last Day for Cancellation of Registration:

December 15, 2020

Early-Bird Registration Deadline:

December 20, 2020

Regular Registration Deadline:

January 20, 2021

WIP 2021 Workshop:

January 30-31, 2021
Important Notes
All participants are required to create a personal account through WIP 2021 Workshop Online System.
If you are a new user of this online system, please create a new account first.
Please login with valid email and password to proceed with registration process.
Registration Information
Complete registration requires full payment. Please note that the registration will not be processed without the receipt of this documentation.
Should there be any inquiry, please do not hesitate to contact the WIP 2021 Registration Office at wiptaipei.reg@elitepco.com.tw.
Overseas Participants Registration Fee

Domestic Participants Registration Fee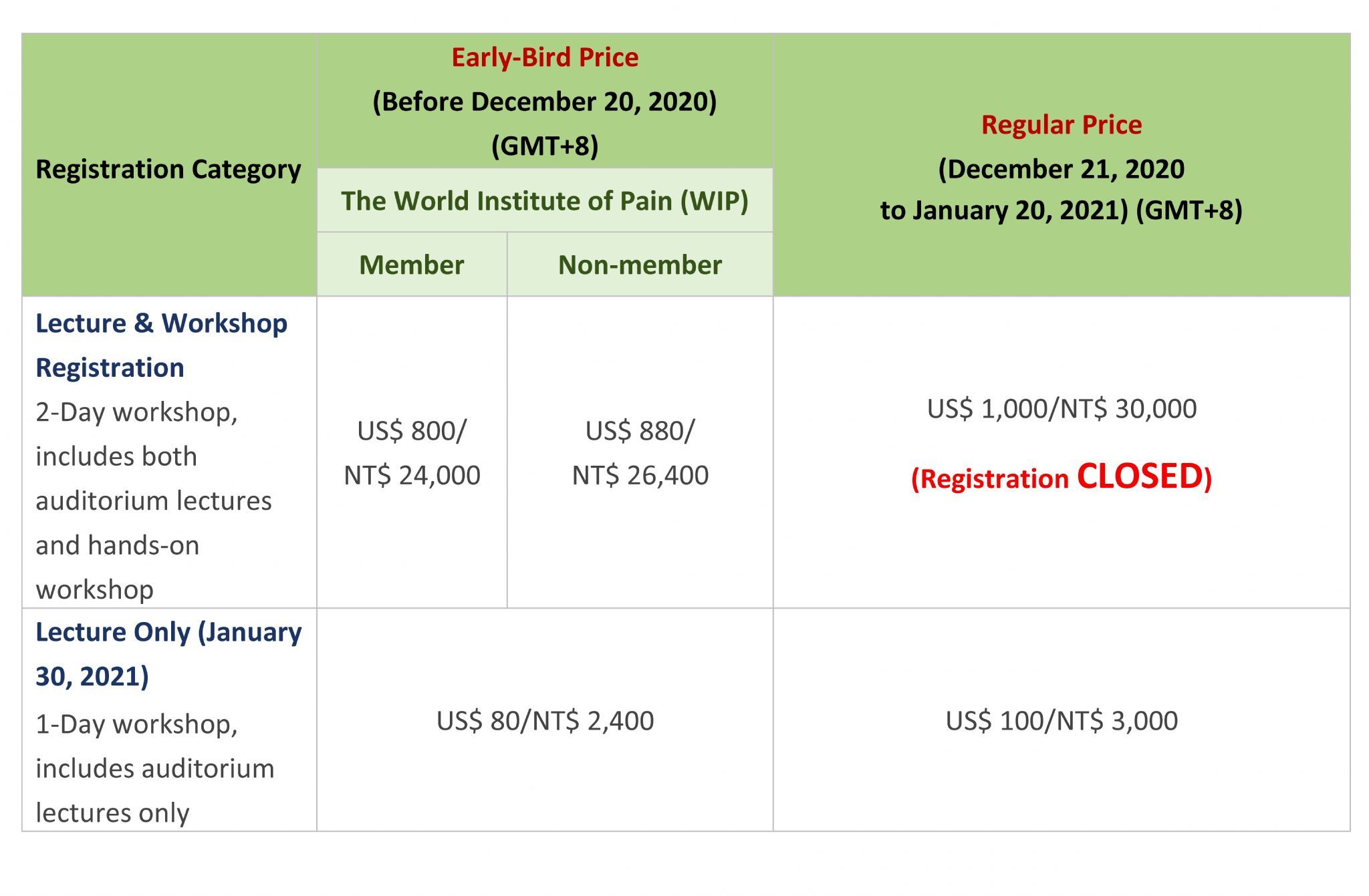 For on-site workshop participants, we would like to remind you the followings:
We use "manikin" in the fluoroscopic workshop to ensure the participants can learn how to adjust and optimize image acquisition. Also to familiar with Gun-Barrel approach.
For physical examination workshop and ultrasound workshop, we will have human volunteers for clinical examination and interactive live scanning.
The final attending list of the on-site workshop on Jan. 31, 2021 will be announced once it's finalized by organizing committee.
參加實體工作坊的醫師請注意
X光透視鏡導引工作坊中,我們會以仿體 (模型)讓參加者熟悉如何獲得最佳導引影像並熟悉X光導引注射最重要的 Gun-Barrel Approach 實際手法
超音波與理學檢查工作坊中,我們會以標準病人進行演示並提供參加者實際執行 Physical Examination 及超音波動態掃描的實務經驗
最終錄取及分組名單待籌備委員確認後將擇日公告
Entitlement

Payment Method
Payment could be made by either of the method mentioned below. Please note that participants will be responsible for all bank charges incurred.
Credit Card
Only International Credit Cards of Visa, Master and JCB Card are accepted.
Wire Transfer
Participants who choose to pay by wire transfer are kindly requested to upload the remittance receipt via the registration system to confirm participant payment. Once the Registration Office confirm your payment with the bank, you will receive an official receipt within 7-15 working days.
Cancellation & Refund Policy
Notification of cancellation and request for registration fee refunds must be sent in writing to the WIP 2021 Registration Office by e-mail (wiptaipei.reg@elitepco.com.tw).
Please note that the refund policy ONLY could be applied for those who registered for Lecture & Workshop Registration.
Cancellation of registration will be accepted by the deadline of December 15, 2020 (GMT+8). There will be NO refund after December 15, 2020 (GMT+8).
The registration fee will be refunded with a US$30 or NT$900 deduction for administrative expenses.
All bank services charges will be deducted from workshop registration refunds.
All refunds will be processed after the Workshop has concluded.
Disclaimer
Every attempt will be made to present the program as printed. However, the WIP 2021 reserves the right to alter or cancel, without prior notice, any of the arrangements, programs or other items relating directly or indirectly to the Workshop, for any cause beyond its reasonable control. The WIP 2021 Registration Office is not liable for any loss or inconvenience caused as a result of such alterations. In the event of cancellation of the Workshop all pre-paid fees will be refunded in full. However, the Registration Office is not liable for any loss or inconvenience caused as a result of such cancellation.
Insurance
Participants are advised to take care of their own travel and medical insurance and to extend their policy to cover personal possessions as the Workshop does not cover individuals against cancellation of bookings or theft or damage to their belongings.
If you have any question, please do not hesitate to contact:
Registration Office
Ms. Molly Hsiao
Office: +886-2-2798-8329 Ext.18
Fax: +886-2-2798-6225